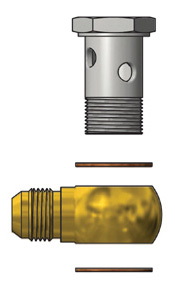 Banjo Adapters appear in countless applications, especially in the automotive and mobile equipment markets. Banjo Adapters are superior in tight spaces because of the inherent low profile and small clearance required for the banjo and bolt arrangement. You can even replace a standard elbow to get into tight spots, as well as make it much easier to orientate the direction of the elbow.
Banjo fitting adapters are often difficult to work with, so these conversion adapters make it simple and easy to eliminate awkward hose or tube arrangements in order to produce the assembly needed. It is also common for many other JIC, BSPP and Metric Banjo bodies to be 2 parts: a braze male JIC with a nut to a braze banjo body. These Banjo Adapters are a 1 piece design that vastly reduces weight and footprint of the fitting, as well as improves strength and integrity.
Do you need metric fittings besides these Banjo Conversions adapters? We have a complete line of DIN, Metric, BSPP, BSPT, Komatsu, and JIS adapters ready to ship.