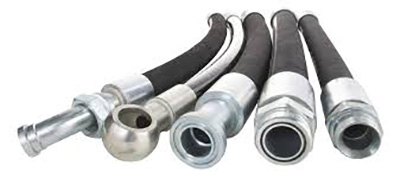 Build A Hose is a Tool for you to use to create your own hose assembly exactly like you need it to be built. Build your Custom High Pressure Hoses Online, put it in your cart. The Hose is Priced and Ready For Checkout. Place a Hydraulic Hose order before 3pm EST Monday- Friday and Your Hose will Ship to You the Same Day you Placed Your Order.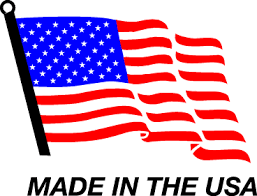 On our Hydraulic Hose Assemblies, the hose ends are USA Manufactured. On the hydraulic hose, USA Manufactured hose is available on the SAE 100R16 and 100R2-AT hoses.
Build Your Hose Right Here,

Right Now
Here on our Site you are Able to Build your own Custom Hose. We have a Wide Variety of Hoses Available. You Pick the Hose, the Length, and the Fittings That You Want On It and We Will Custom Make it For You.
Types of Custom Hose Available Build and Order:
Air Water

Hydraulic Hose

Thermoplastic Hose
PTFE with Stainless Braid Hose Assembly
DOT 100R5 Hose
Water Hose
Steam Hose
PVC Hose
Pressure Washer
Pest, Weed, Orchard
Chemical Hose
LP Gas Hose
What are you going to repair today? Do You Need a New Custom DOT 100R5 Custom Hose for your Truck? Do you Need a Custom Pressure Washer Hose Length? Are you Transporting Water and Need a Water Hose that is Safe for Drinking Water? Maybe you are Working with Steam and Need a Steam Hose that Can Handle Extremes Temperatures. We even Make Custom Garden Hose. We Offer Many Different Types of Custom Solutions to Your Hose Needs. You don't Need to Go with a set Amount of Hose. No Need to Find Space to Coil the Extra Hose. Start Making Your Custom Hose Today.
Custom Hydraulic Hose Assemblies Come with Fittings Installed on Both Ends for Connecting the Hoses to Compatible Equipment. Hydraulic Hoses are Used for Transferring Fluids in Petroleum and Water-Based Hydraulic Systems Commonly Found on Industrial, Marine, Automotive, Mining, and Manufacturing Equipment. These Hydraulic Hoses are Reinforced to Maximize Their Strength.
Are You Working with Extreme Temperatures, Abrasive Chemicals, and Harsh Environmental Factors? Make Sure You Build The Right Hose for The Job. All of our PTFE Thermoplastic Hydraulic Hoses Meet or Exceed SAE Performance Requirements, and are Specifically Designed to Convey Petroleum, Water Base, and Synthetic Hydraulic Fluids for a Range of Industrial, Power, Farm and Construction Machinery. Thermoplastic Hoses are Cleaner, Lighter and More Flexible than Steel-Reinforced Hoses. Thermoplastic Hose is Well-Suited for Forklift, Snowplow, and Other Hydraulic Applications. Twin Hoses and Nonconductive Hoses are Available Also. Order a Custom PTFE Thermoplastic Hydraulic Hose on Our Site.
PTFE with Stainless Braid Hose Assemblies are Industrial Flexible Metal Hoses are Known by Many Terms, Including Stainless Steel Hoses, Braided Hoses, Flex Hoses, Metal Flex Hoses, Flexible Metal Hoses, Flex Lines and More. They All Refer to a Hose with a Stainless Steel Metal Liner that may or may not have a Metal Braided Cover. Your Custom Hose End That You Chose are Welded Onto your Metal Hoses and Tested to Our Specifications. Metal Hoses are Superior for Extreme Temperatures, Including High Temperature Hoses and Cryogenic Transfer Hoses. Stainless Metal Hoses Make Excellent Chemical Hoses such as Sulphuric Acid Hoses and Ammonia Hoses Since They are Chemical Resistant Transfer Hoses with Minimal Effusion.
Chemical Hoses (also known as chemical transfer hoses) are Used to Move Chemicals from one Location to Another. They are Made from Materials that Resist Damage when Exposed to Specific Kinds of Chemicals. These Chemical Hoses are Used for Applications such as Transferring Acids, Solvents, and Petroleum Products to or From Storage Containers in Industrial Plants and Spraying Pesticides, Fertilizers, and Paint. Bulk Chemical Hoses can be Cut to the Desired Custom Length and Compatible Hose Fittings can be Added to the Ends of the Hoses to Create Custom Hose Assemblies. Chemical Hose Assemblies Come with Fittings Installed on the Ends of the Hose and are Ready to be Connected to Equipment.
Gaseous Hoses and LP Hose are Primarily used for Transferring Propane, Butane, Natural Gas, Nitrogen, and other Liquid Gases. They have Pinpricked Covers that Allow Gas and Vapors that have Permeated Through the Hose Carcass to Escape Instead of Getting Trapped Between the Hose Reinforcement and the Cover and Causing the Cover to Bubble or Blister. Custom LP and Gaseous Hose Assemblies come with Your Custom Fittings Installed on Both Ends of the Gaseous and LP Hoses for Connecting Them to Compatible Equipment.