Brass Metric Fittings

We stock a wide variety of metric fittings: BSPP, BSPT, DIN, Komastu and Metric. We specialize in all types and sizes, and carry an extensive stock of metric items.
Choose the appropriate department to start your selection of brass metric fittings. Can't identify the metric fitting you need? See our extensive thread identification page or call our expert sales people to help you.
Our Brass Low Pressure Metric Pipe Fittings are available in BSPP (British Standard Parallel Pipe) and BSPT (British Standard Taper Pipe). Click on the Link for more information on
identifying, sizing and torquing both BSPP Threads and BSPT Threads.
These parts may or may not come standard with a Nickel Plating.
Conversion Fittings can be found in this group that will take a BSPP or BSPT to National Pipe Thread (NPT).

Our Push-In Fittings are the best elements for connecting pipes and actuators. Quick and Easy to use, our Push-In Fittings can be re-used thousands of times without affecting the pneumatic and mechanical seal in any way. It comes in various configurations and guarantees a virtually unlimited, highly
flexible use.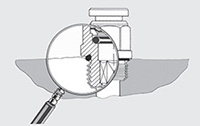 All of these fittings have cylindrical threading and incorporate a O-ring. The use of an O-ring considerably improves the seal of angled, rough and slightly convex surfaces. Sealing tape or thread dope is no longer used. Thread sizes available: M3, M5, M7, M12x1.5, G1/8″, G1/4″, G3/8″ and G1/2″.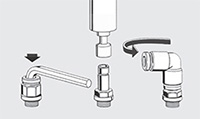 Mounting fittings with an Allen wrench or pneumatic tool. All elbows and TEEs are rotary. Drastic reduction in assembly times.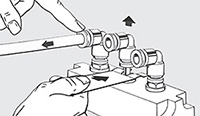 The pipe is easy to assemble by pressing lightly on the pusher ring. To remove the fitting, merely push radially on the key. Tube sizes (mm) available: 3, 3.17, 4, 5, 6, 8, 10.12 and 14.
The unique feature with these fittings is their ability to use the same fittings for NPT, BSPT or BSPP threads. These fittings also are available for fractional and metric tubing. Universal threads will endure applications with high impact and vibration. The universal threads will seal on inclined, concave and convex surfaces.
We are available to help you find the parts that will solve your problem. We also offer special custom made fittings, short run items, and large volume production.