Measuring A Hose Length
When describing a hose, we always call out the length in inches. No matter how long the hose is. If it is a 2 foot (24 inch) assembly, a 5-1/2 foot (66 inch) assembly or a 100 foot (1200 inch) assembly, the inch value is what we are looking for. That includes calling out fraction of an inch by the fraction or the decimal equivalent. An example would be a 24-1/2 inch assembly is the same as a 24.5 inch assembly.
There are two critical lengths to a hose assembly; the Overall Length (OAL) and the Cutoff Length (COL). If you are buying a made up assembly, the overall length is all you have to be concerned with. If you are making a hose assembly, both lengths are a factor in making the hose assembly. The diagram below shows both lengths.

Unless otherwise specified by the customer, the assembly's overall length is measured from the extreme of one hose end to the extreme end of the other hose end; except for O-Ring Face Seal Hose Ends. O-Ring Face Seal Hose Ends are measured from the sealing face. Where elbow Hose Ends are used, the measurement is the centerline of the sealing surface of the elbow hose end. Examples can be found in the diagram below.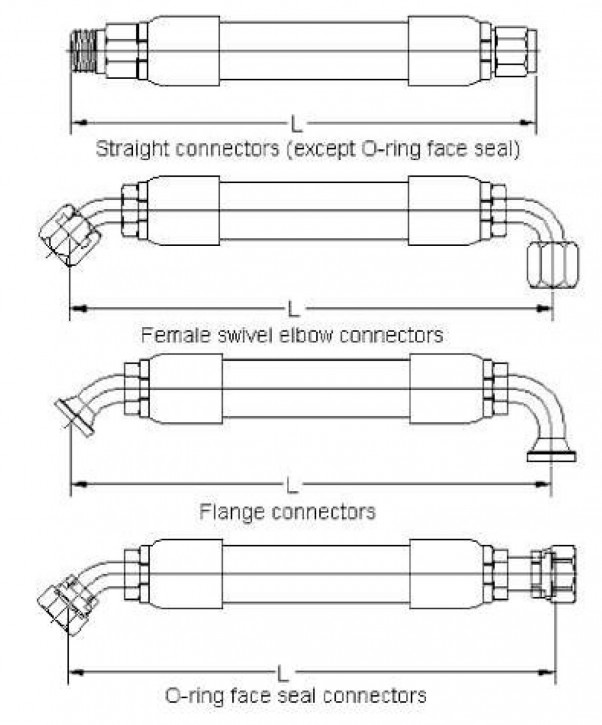 The hose cut length is calculated by subtracting each hose end's cut off factor. The cut off factor is the distance from the bottom of the ferrule or collar to the end of the fitting, dimension "C" in the diagram below.
Hose Length Tolerances
When establishing proper hose length, motion absorption, hose length changes due to pressure, as well as hose and machine tolerances must be considered. Typical length tolerances for assemblies shown in the table below.
SAE is the standards organization which originated in the United States and is predominantly a North American organization while ISO originated in Europe. For hose assembly tolerance length, either standard may be referenced and used.
© Copyright 2012 by the Association for Hose & Accessories Distribution, Inc.