EPDM Suction & Delivery Hose
General Application
Primary use is water suction and delivery hose.  It may also be suitable for mild chemicals and fertilizers in general industrial and agricultural applications.  
Construction
Tube: Black EPDM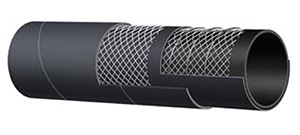 Reinforcement: High Tensile Textile Cords with Embedded Steel Helix Wire
Cover: Abrasion and Ozone Resistant Black EPDM
Safety Factor: Less Than & Equal to 4″ – 3:1, Greater Than 4″ 2.5:1
Temperature Range: -22°F to 176°F
Hose Assemblies Up To 8 inch are Assembled Using Four 5/8″ 302 Stainless Steel Center Punch Clamps.  8 inch Assemblies and Larger Use Four 5/8″ Galvanized Steel Center Punch Clamps.
| | | | | | | |
| --- | --- | --- | --- | --- | --- | --- |
| SKU | ID (inch) | OD (inch) | Pressure (psi) | Vacuum (inHg) | Bend Radius | Weight / Foot (lbs) |
| 100S/D | 1 | 1.380 | 150 | 30 | 4″ | 0.47 |
| 125S/D | 1-1/4 | 1.650 | 150 | 30 | 5″ | 0.56 |
| 150S/D | 1-1/2 | 1.890 | 150 | 30 | 6″ | 0.64 |
| 200S/D | 2 | 2.400 | 150 | 30 | 8″ | 0.84 |
| 250S/D | 2-1/2 | 2.950 | 150 | 27 | 10″ | 1.20 |
| 300S/D | 3 | 3.460 | 150 | 27 | 12″ | 1.44 |
| 400S/D | 4 | 4.490 | 150 | 27 | 16″ | 2.03 |
| 500S/D | 5 | 5.550 | 150 | 24 | 25″ | 3.18 |
| 600S/D | 6 | 6.540 | 150 | 24 | 30″ | 4.01 |
| 800S/D | 8 | 8.700 | 150 | 21 | 40″ | 6.59 |
| 1000S/D | 10 | 10.710 | 150 | 18 | 50″ | 9.03 |