We Offer Two Different Chemical Hoses
The first chemical hose fitting has a UHMWPE tube. UHMWPE Stands for Ultra-High Molecular Weight Polyethylene. This Hose has Excellent Chemical and Heat Resistance. The UHMWPE has a Blue Outside Cover.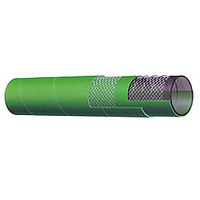 The second chemical hose connector has an XLPE tube. XLPE Stands for Cross Linked Polyethylene. This Hose has Excellent Resistance to Most Solvents, Oils and Chemicals. Do not Confuse Cross Linked Polyethylene's Chemical Properties with the Chemical Properties of Standard Polyethylene. They are not Equivalent. The XLPE has a Green Outside Cover.
To Help Select the Best Choice for Your Application, Look Over This Chemical Resistance Chart for Suggestions on Which Hose to use. Whatever Hose is Determined to Work for Your Application, it is Advisable to Test the Tube Material Under Actual Service Conditions Prior to Use.
HoseandFittings.Com
HoseandFittings.Com
HoseandFittings.com