You Need A Better Seal?
We Have It!
Make JIC Flared Fittings 

"Leak-Free"
FlareTite Seal Development
The cost of servicing leaking fittings, downtime for machinery, facility contamination and high environmental clean-up cost were the driving forces behind the development of the FlareTite Seal.
FlareTite Seals use the unique combination of stainless steel insert stamping and Loctite™ Sealant.  Loctite™ is the world's leader in sealing compounds, and the FlareTite Seal is the ultimate solution for eliminating leaking gas or fluid from flared tube and hose connections.
Your Fitting "Leak-Free"
The FlareTite Seal is a metal stamping, designed with multiple concentric sealing rings.  The entire seal is coated with a dry-to-the-touch baked on Loctite™ sealant.  When inserted into a fitting, the concentric rings form multiple seals down the face of the flare, while the Loctite™ coating fills minor imperfections, dramatically increasing the integrity of the fitting.  New ISO and NFPA standards strongly recommend seals for all fittings.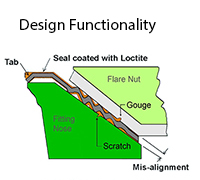 The Result
The FlareTite Seal is a permanent, "Leak-Free" connection, which exceeds the performance of today's ORFS fittings, and at a significantly lower cost.  Our seal maintains the low profile, versatility and world-wide availability of flared fittings.  Flared connections fitted with FlareTite Seals are today's answer to low cost, high integrity, "Zero-Leak" fittings, while complying with international standards.