USA Manufactured Hydraulic Hose Ends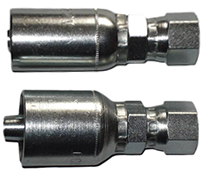 Do Your Hose Ends Resemble These?
All of the Hydraulic Crimped Hose Ends linked on this page are Manufactured in the USA.
Being USA Manufactured is a huge feature. As big of a feature as this is, the ability to use these hose ends in Positive Stop Crimpers offered by Parker Hannifin and WeatherHead and have a good crimp is as big of a feature. Compare our Crimp Specifications to the crimp specifications of those machines. Always check your crimps after crimping with a caliper to insure your crimp is right on specification.
So, whether you are using Parker, WeatherHead, Areoquip, Dayco or Imperial crimping equipment, one of our HF Series hose ends may be an equivalent Hose End for you.
No matter whose hose ends you use, get in the habit of checking your crimp diameters with a caliper after each crimp and compare that to the manufacture's crimp specification. Close is not acceptable. Avoid a blown off end.

HF Crimp Specifications
If You Don't Have A Crimper and Need A Hose,

Build A Hose Online

. You Specify It, We Build It and Ship the Same Day on Hydraulic Hoses Placed Before 3:00pm Eastern Time.