Low Temperature PVC Hose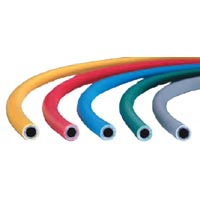 Our High Quality Flexible PVC Compounds are Uniquely Blended to Make this Hose Look and Feel Like Comparable Rubber Hose and Stay Flexible at Low Temperatures. Its Light Weight Makes it an Ideal Hose for Air Tool Applications.
Construction:
Tube – Black PVC Compound

Reinforcement – Spiral Polyester Yarn with Additional Longitudinal Yarns. This Reduces Elongation Under Pressure

Cover – PVC Compound in a Variety of Colors; Yellow, Red, Blue, Green & Grey
Features:
UV and Weather Resistant

Excellent Cold Weather Flexibility

Easily Re-Coiled After Use

Medium/High Oil Resistance, Complies with RMA's Class B Designation

Non-Marking Pin-Pricked Cover

Lightweight

Chemical Resistance of PVC

Silicone-Free Core and Cover

Class B – Medium Oil Resistance

Temperature: – 14°F to 150°F (- 10°C to 65°C)
Applications:
Ideal for In-Plant Applications Requiring Color Coding of Hose Supply Lines

Transfer of Air, Water and Mild Water Soluble Chemicals

Outdoor Applications Requiring a Low Temperature Hose

General Air Supply Line for Pneumatic Tools and Paint Spray Systems

Low Pressure Spray Hose for Water-Soluble Chemicals
Hose Color
ID (inch)
OD (inch)
Pressure 70°F (psi)
Pressure 122°F (psi)
Reel (foot)
Weight (lbs/ft)

Red

Blue

Grey

Yellow

1/4
0.500
300
180
500
0.088
Red

5/16
0.625
300
180
500
0.136
3/8
0.625
300
180
500
0.116
Red Blue Grey Yellow
1/2
0.813
300
180
500
0.186

Red

5/ 8
0.906
250
125
300
0.213
Red Blue Grey Yellow
3/4
1.125
250
100
300
0.320

Red

Blue Grey Yellow
1
1.406
250
100
300
0.433


Do you need these?