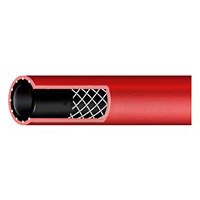 General Uses:
There are Typically Three Categories of High-Pressure Air Hose: Oil Resistant (Class A – High Oil Resistance or Class B – Medium Oil Resistance) and Non-Oil Resistant (Class C – Limited Oil Resistant). The Lower Pressure Hoses are Generally Used for Applications such as Air Guns, Service Stations, Industrial Air Lines in Plants and Many Other Air Services. High Pressure Air Hoses which are Considered to be Hoses with Working Pressure at or Above 300 psi are Generally Used in Construction and Mining Where Large Volumes of Air Service are Required.
Typical Air Line Hose Constructions Include: Non-Oil Resistant Rubber Air Hose, Medium Oil-Resistant Rubber Air Hose, High Oil-Resistant Rubber Air Hose, PVC Air Hoses and Textile Braid Air Jack Hammer Hose.

Sizing:
This is a Question We Get a Lot from People Using our site, "What does the Size Number Represent?" In This Area, Air Hose, the size is the top 1/2 of the 16th fraction. When you reduce the fraction, you'll recognize where the size number comes from. Example: 02 = 2/16 = 1/8, 04 = 4/16 = 1/4 etc…
The Common Sizes Found for Air Hose are; 02, 04, 06, 08, 10, 12, 16, 20, 24 and 32. A Less Common Size that You May See is 05.
The Size is the ID of the Hose.
For Hose Assemblies, Lengths can be Confusing too. We Think in Inches, Even if we are Talking about a 50 foot Assembly. That is 600 Inches to us. 300 = 25ft, 600 = 50ft, 900 = 75ft and 1200 = 100ft.
Assemblies:
Besides Selling Bulk Hose, We do Offer Custom Build a Hose and Bulk Made up Assemblies.
Hose Specifications:
Limitations:
Hoses that are Non-Oil Resistant, Class C, Should Not be Used in an Oil Environment. The Hose will Not Hold up to Expectations.