Basics of Hydraulic Hose
Hydraulic hoses are constructed of three main components; Tube, Reinforcement and Cover. 
The inner most part of the hydraulic hose is the tube, wrapped up by reinforcement, which is encapsulated with a cover.
Tube
The tube is the inner most lining of a hydraulic hose and comes into contact with the fluid being conveyed.  The tube and fluid compatibility is most critical.
As described above, the inner part of a hose is the tube; its function is to contain and convey the service fluid.  Furthermore, it also protects the outer elements of the hose from possible aggression of the conveyed fluid.  Additional caution must be exercised in hose selection for gaseous applications where premeation my occur.  Premeation of effusion is seepage through the hose pores resulting in loss of fluid.  This may occur when a hose is used with fluids such as but not limited to; liquid and gas fuels, refrigerants, helium, fuel oil & natural gas.  The material of the tube is chosen among a great number of synthetic rubbers.  The chemical composition of the compounds should be selected to meet the requirements of the application.
Reinforcement
The tube itself cannot withstand the pressure of the conveyed fluid; in fact, as mentioned above, the design of the tube considers only its compatibility with the fluid to contain, while the very wide range of pressures presents in hydraulic applications must be analyzed otherwise.
The reinforcement material is the "Muscle/Strength" to resist internal or external pressures.  The three basic types of reinforcement are Spiral, Braid and Helical.

Spiral reinforcement is typically steel wire (Textile for Lower Pressure) and has four or six overlapping layers of reinforcement.  Spiral wire hose can handle move severe applications with longer service impulse cycle life at extremely high pressures.
Braid reinforcement can be steel wire or textile, and can have single or multiple layers.  Braided hose can handle low to high pressure impulse applications.
Helical coil monofilament reinforcement keeps the hose from collapsing in on itself when used in suction line applications.  Helical hose can be rated to a full vacuum rating of 30Hzg.
The pressure resistance of the hose must be higher than the working pressure.  The safety factor is defined as the ratio between the burst pressure and the maximum working pressure; for the hydraulic applications the safety factor is set to 4:1 by International Standards, some special static applications a water cleaning for example (ISO 7751) have a 2.5:1 safety factor.  For low pressure applications (up to 1450 psi for example), textile reinforcements may be used.  So nylon, rayon or polyester fabrics are woven, braided or wrapped around the tube.  When the pressure gets higher stronger materials are needed and steel wire spirals or braids are used.
Wire braided hoses bear generally one or two layers of reinforcement (in some cases even three) while spiral ones commonly four or six spirals (layers).  The application of braids and spirals can also be mixed depending on the most appropriate design.  Between each layer of braids or spirals an interlayer or friction layer is installed to create a bonding effect and to prevent friction wear between wires.
In general, spiral hose constructions are better suited to high impulse heavy duty applications, which involve flexing and large pressure spikes.  However, there are specialized braided hoses available from various manufacturers that can achieve significant impulse cycle life in a flexing application with a tight bend radius.  Helical coil monofilament reinforcement hose is found primarily in suction line applications and low pressure return line applications.  Please consult HoseandFittings.com if there are multiple constructions required to meet your application needs.
Cover
Environment, machines and operators themselves can damage the reinforcement.  The cover, outermost element of the hose, is used to protect it.  There are several types of cover, each designed depending on specific requirements: economy, safety, abrasion resistance, chemical resistance, etc.; even aesthetic are features linked to the choice of the cover (e.g. color).  Rubber cover can have a wrapped finish: instead of the smooth finish a wet nylon tape is used around the hose during the vulcanization; at last the nylon tape is removed and leaves the hose bearing its imprint.  Free steam vulcanization is also used: the hose is directly vulcanized without any wrapping or shaping method.  The vapor steam at high temperature is directly in contact with the outer rubber cover of the hose.  This allows saving some steps of the entire manufacturing cycle saving time and materials.  Particular attention must be paid to maintain the tolerances and to avoid local defects on the cover.  Cover finish is smooth.  Also fabric braided covers are still used: the cover is braided fabric, often impregnated with rubber adhesive.  This is the best solution when minimum weight and heat dissipation are required.  This solution is usually used on low or medium pressure hoses due to its relative weakness (e.g. R5 hose type).  Coverless type is usually only used for stainless steel braided hoses, mostly PTFE hoses.
© Copyright 2012 by the Assocation for Hose & Accessories Distribution, Inc. (NAHAD)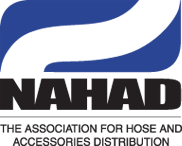 Selecting A Hose
Selecting the correct hose for an application has to take into account several variables about your application.  There is an acronym named STAMPED that is useful for guiding you to look at all those variables when selecting a hose.  If you Google STAMPED, you'll find a lot of companies giving you the word each letter comes from; Size, Temperature, Application, Media, Pressure, Ends and Delivery.  We have used the NAHAD explanation for each letter to better guide you through your selection process.
Hoses
Medium Pressure, Single Textile Briad Reinforced Hydraulic Hose
(According to ISO 4079 type 1 / DIN EN 854 type 1TE / SAE J517 type SAE 100R6)
Suction & Delivery Hydraulic Hose
(According to SAE J517 type SAE 100R4)
High pressure, single steel braid reinforced hydraulic hose
(According to ISO 1436 / DIN EN 853 type 1SN / SAE J517 type SAE 100R1 AT)
Higher pressure, double steel braid reinforced hydraulic hose
 (According to ISO 1436 / DIN EN 853 type 2SN / SAE J517 type SAE 100R2 AT)
Higher pressure, double steel braid reinforced hydraulic hose
(According to ISO 1436 / DIN EN 853 type 2SN)
High Pressure, Double Steel Wire Braid Reinforced Hydraulic Hose
(According to SAE J517 Norm Type / SAE 100R16 / ISO 11237-1 Norm type R16)
High Pressure, Single or Double Steel Braid Reinforced Hydraulic Hose
(According to SAE J517 Norm type / SAE 100R17 / ISO 11237-1 Norm type R17)
High Pressure, Four Steel Wire Spirals Reinforced Hydraulic Hose
(According to ISO 3862 / EN 856 type R12 / SAE J517 type SAE 100R12)
High Pressure, Very Flexible, Four Steel Wire Spirals Reinforced Hydraulic Hose
(According to ISO 3862 / EN 856 type R12 ? SAE J517 type SAE 100R12)
Very High Pressure, Four Steel Wire Spirals Reinforced Hydraulic Hose
(According to ISO 3862 / EN 856 type 4SH)
Very High Pressure, Four or Six Steel Wire Spirals Reinforced Hydraulic Hose
(According to ISO 3862 / EN 856 type R13 / SAE J517 type R13)
Very High Pressure, Four or Six Steel Wire Spirals Reinforced Hydraulic Hose
(According to ISO 3862 / EN 856 type R15 / SAE J517 type R15)
High Pressure, Synthetic Polyester Braid Reinforced Thermoplastic Hydraulic Hose
(According to ISO 3949 / EN 855 Type R7 / SAE J517 type SAE 100R7)
High Pressure, Synthetic Polyester Braid Reinforced Thermoplastic Non-Conductive Hydraulic Hose
(According to ISO 3949 / EN 855 Type R7 / SAE J517 type SAE 100R7)
Very High Pressure, Aramid Braid Reinforced Thermoplastic Hydraulic Hose
(According to ISO 3949 / EN 855 type R8 / SAE J517 type SAE 100R8)
Very High Pressure, Aramid Braid Reinforced Thermoplastic Hydraulic Hose
(According to ISO 3949 / EN 855 type R8 / SAE J517 type SAE 100R8)