Hose Routing for Hydraulic Hose Assemblies
Hose assemblies should be routed to prevent damage from the environment. Damage may come in the form of abrasion or excessive heat. Do not route assemblies in high abrasion areas without proper protection. Similarly, do not place hose near hot exhaust manifolds without proper shielding. The best practices described in this section represents corrections to some of the most common routing mistakes. A more complete guide can be found in SAE J1273.
Twisting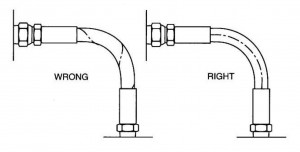 Hose assemblies should not be installed in a twisted condition. Swivel fittings and/or the layline may be used to aid in twist free installation. When possible, a second "back-up" wrench should be used to prevent twisting while tightening the hose end swivel nut.
Minimum Bend Radius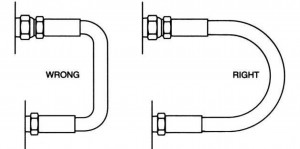 Routing at less than minimum bend radius, will reduce the service life of the hose. Use the static or dynamic minimum bend radius according to service conditions. Sharp bends at the hose to fitting juncture should be avoided. Bending the hose to a radius tighter then the minimum bend radius can cause kinking of the hose and shorten the life of the assembly. The bending should not begin closer than one hose diameter of the ferrule.

Care should be taken when routing hoses to take into account any movement of the hose due to articulation of the equipment while in use. This may include cylinders extending and retracting or the rotation of hydraulic motors. Extra length may be required to prevent the hose from exceeding the rated minimum bend radius.
Angled Adapters and Fittings
The use of angled adapters and fittings can prevent the violation of the hose minimum bend radius. They can also improve appearance and accessibility to hose assemblies.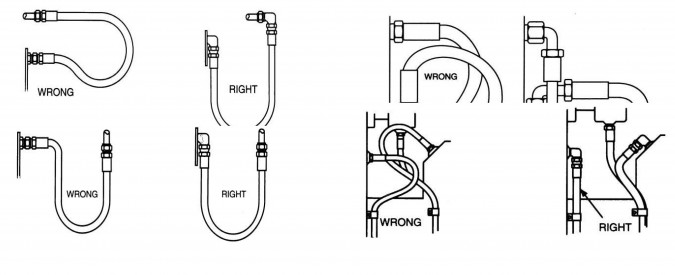 Minimum Free Length
When routing short assemblies, it is recommended that a minimum free hose length is always used. Minimum Free Length (MFL) is defined as equal to 4 times the hose OD plus half the hose minimum bend radius as a rule of thumb for hydraulic hose assemblies.

Length Change Under Pressure
It is also important to ensure that hose assemblies have enough length to compensate for the change in length of the hose when pressurized. Enough slack should be provided, in case the hose contracts under pressure, to prevent creating tension into the hose assembly. In assemblies where the hose is bent, the hose length should be sufficient so that the minimum bend radius is not exceeded if the hose contracts under pressure.

© Copyright 2012 by the Association for Hose & Accessories Distribution, Inc.