Tough Jobs Gold PTFE Tape
Thickest and densest PTFE tape for chemical applications where high quality sealing is imperative.
This premium quality tape provides a positive seal with just one and a half wraps. It is tough and durable, and ideally suited to applications which demand exacting standards of reliability. Gold Tape creates positive seals on threaded metal pipe joints.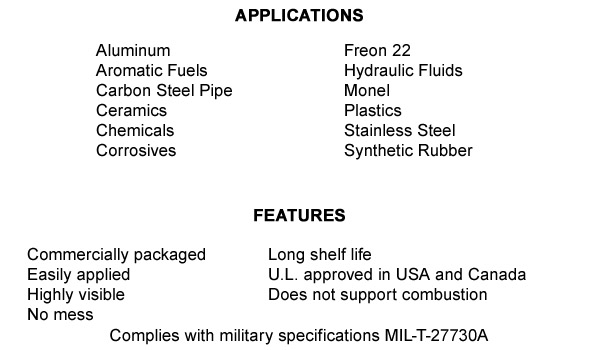 Click here to buy Gold PTFE tape
Approved for use by gas utilities world-wide

Suitable for use with cyanide service

Specially developed for use in critical service wherever applications requiring U.L. or U.L.C. rating is

important for insurance.
HOW TO APPLY GOLD PTFE TAPE
To obtain best results when using Gold Tape, always wrap in the direction of the spiral. Begin with the second thread from the end and make two complete wraps…tight enough for the tape to conform to the thread shape. Now press the tape firmly into the grooves and tighten the joint. Gold Tape will fill all the voids and provide a sound, positive seal…every time.
GOLD PTFE TAPE SPECIFICATIONS
Material: PTFE

Color: Gold

Thickness: 0.0045 inch

Density: Full

Temperature Range: Effective from -450°F to 500°F

Max. working pressure: 2500 psig

Widths: ¼ , ½ , ¾ , 1 inch

(Pipes 2 inch and over should use ¾ inch or 1 inch tape).
Do you need one of our five other types of PTFE tapes to meet your needs?
Click here for our Economical White PTFE tape
Click here for our Maximum Density Pink PTFE Tape
Click here for our Oxygen Green PTFE Tape
Click here for our Yellow PTFE Tape To Use For LP and Natural Gas Connections