Red or Black Steam Hose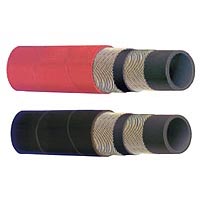 Features:
Heavy Duty Hose for Conveying Steam up to 450°F and 250 psi

For Use in Plants and Refineries

Tube is Black Extruded EPDM for High Temperature Steam

Cover is Black or Red Pinpricked EPDM Blend

Reinforced with High Tensile Wire Braids

Ambient Temperature: -40°F to +180°F
Coupling Suggestions
Steel or Malleable Iron Male Insert or Female Ground Joint or Washer Type with Spuds Attached with 2 or 4 Bolt Interlocking Clamps.

Universal Quick Couplings Should NOT Be Used with Steam Hose
Use with super heated steam will shorten hose life. Proper draining of the steam hose after each use will increase the service life of the hose, especially in a hot water application.