Steel JIC & SAE BOSS Fittings

We stock a wide variety of Boss Hydraulic Fittings: JIC, SAE BOSS, Pipe, Flat Face, Compression and Metrics. We specialize in all types and sizes, and carry an extensive stock of Hydraulic Fittings.
Can't identify the hydraulic fitting you need? See our extensive thread identification page or call our expert sales people to help you.
The industry standards for 37º Flare Fittings come from the requirements found in SAE J514 and ISO 8434-2. The design is simple. It uses an easily produced flare at the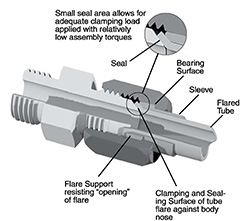 tube end to seal and hold fluid under pressure. The fitting consists of 3 pieces: the body, sleeve and nut. The tube is flared at a 37º angle and held between the fitting nose (seat) and the sleeve (support) with the nut as shown to the left.
Tightening of the nut will clamp the tube flare between the body nose producing a leak tight connection. Sealing of the 37º takes place between 2 smooth metal surfaces, the fitting nose and the inside of the tube flare. This clamping on the 37º taper provides a measure of elasticity to the joint helping to resist loosening under vibration. All while, the clamping force provided by the nut resists the opposing force of the fluid under pressure.
Straight or parallel thread ports in various forms are very popular in hydraulic systems because they are more reliable and easier to service.

This type of fitting is called many names; BOSS, SAE, UN/UNF, O-Ring BOSS and ORB to name a few. SAE J1926 uses UN/UNF threads and is often referred to as SAE
Straight Thread. The female port is often referred to as ORB or O-Ring BOSS. This port style, on the left, is widely used in North America. Check out these SAE ORB fittings today!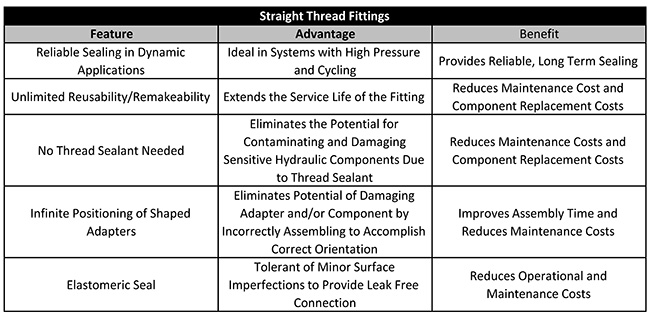 Reference Information from Parker Hannifin Tube Division 4300 Catalog